The semiconductor manufacturers put in a strong performance in 2021, and that's expected to continue in 2022 as strong demand & supply constraints give the group pricing power & the ability to sell all the chips they can manufacture. Even better, it's expected that manufacturing capacity will increase by 9% throughout the year, and by the second half of 2022 many of the top semiconductor makers will have even more chips to sell.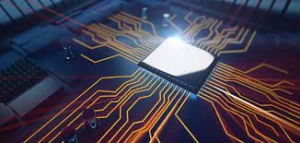 The top pick for many analysts is Nvidia, as the company will find tailwinds from a number of its business segments.
 These include cloud computing, data centers, artificial intelligence, 5G wireless, gaming, advanced driver-assistance systems, autonomous vehicles and the metaverse.
Now could be a good time to get into Nvidia, although the stock is quite high priced. Over the past 52 weeks shares are up 110%, however since the start of 2022 shares have dropped 8.4% as high-growth companies have come under pressure due to the increasingly hawkish Federal Reserve. 
Some other semiconductor stocks that are being favored by analysts include KLA, Micron Technology, Marvell, and Broadcom. Notably missing is Advanced Micro Devices, more commonly known as AMD. That said, AMD shares have also added 55% over the past 52 weeks and could be a solid performer in 2022. 
Another potential semiconductor to keep an eye on is Taiwan Semiconductor Manufacturing. Fourth quarter sales for them rose 32%, which was better than analyst estimates. While the stock was an underperformer in 2021, it has been doing far better in 2022, trading 16.9% higher while its peers have seen their shares moving lower!